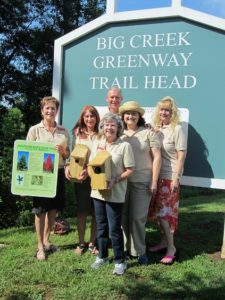 During fall of 2012, Master Naturalists began looking at the trees and plants that line the Greenway trails. Remarking on the density of privet, an invasive, non-native shrub, they decided their next community project would be educational. In a series of field trips, MNEVs identified several native tree species.Then they began researching the ecological and historical significance of each tree.
MNEVs distilled their research findings into a series of storyboards that illustrate growth habits of each species, examples of wildlife that rely on them for food and shelter, and historic uses of the various tree products.
The storyboards, are sponsored by local businesses and philanthropists.
Mounted on posts near actual specimens, the signs allow visitors to admire the trees and simultaneously learn more about them.
In order to cover material and incidental installation costs the Forsyth County Master Naturalists are selling sign sponsorships. Call the Forsyth County Extension Office at 770-887-2418 for pricing or additional information regarding sponsoring a sign.
We would like to thank all those who have sponsored a tree sign for the Greenway.
SPONSOR
ANNA LOUISE SNYDER GRAY 
BOBBY AMOS PLUMBING & BACKFLOW TESTING - CUMMING 
BONNIE WILLIAMS AND HER SCHNAUZERS 
CAROLE MADAN - MOMMA NATURE 
CHARLES W. STRONG, JR. AND LINDA J. HANNA  
EDDIE AND ROSA FITE 
FAST AUTOMOTIVE AUTO REPAIR - ALPHARETTA 
FORSYTH COUNTY MASTER NATURALISTS 
FORSYTH COUNTY MASTER NATURALISTS 
FORSYTH COUNTY MASTER NATURALISTS 
FORSYTH COUNTY MASTER NATURALISTS 
FORSYTH COUNTY MASTER NATURALISTS 
FORSYTH COUNTY MASTER NATURALISTS 
FORSYTH COUNTY MASTER GARDENERS
FORSYTH COUNTY MASTER GARDENERS 
FORSYTH COUNTY MASTER GARDENERS
FORSYTH COUNTY MASTER GARDENERS 
FORSYTH COUNTY MASTER GARDENERS 
Forsyth County Master Naturalists: HONORING DR. STEPHEN GARTON – TEACHER & LEADER 
HELEN AND GORDON BENSON 
HELEN AND GORDON BENSON 
IT Division, Inc. www.ITDIVISIONINC.COM White
JOAN HARBIN 
JOE AND SUZY HARRIS
John and Amy Agramonte: In memory of Nancy Libourel. You taught us all to love the outdoors. 
John and Amy Agramonte:Mary D. Ryan. "My mother is a poem that I could never write"
Jonie Hall for PRESTON HALL, NORMAN OKLAHOMA 
LIBERTY TAX AT SAWNEE CORNERS BLVD - CUMMING GA 
LOU AND FRANK VANEK
Lynne Sheffield IN MEMORY OF BONNIE FRYE 
Lynne Sheffield IN MEMORY OF CHARLOTTE CARTEY 
Lynne Sheffield IN MEMORY OF FRANCES COX 
Lynne Sheffield In Memory of HERMAN HESTLEY  
Lynne Sheffield In Memory of RON SHEFFIELD  
MIKE AND DOROTHY WARREN 
MIKE AND DOROTHY WARREN 
MIKE AND DOROTHY WARREN 
Mike and Dorothy Warren: HONORING LORI & MIKE WARREN, RANDI, WHITNEY & COLE 
Mike and Dorothy Warren; IN HONOR OF LORI, MARK, TYLER AND ABBIE CLARK
Mike and Dorothy Warren; IN HONOR OF LORI, STEVE, IAN AND KATHERINE WARREN 
N.E. GEORGIA PHYSICIANS GROUP – DR. JAN SMITH, CUMMNG OFFICE
N.E. GEORGIA PHYSICIANS GROUP – DR. JAN SMITH, CUMMNG OFFICE
N.E. GEORGIA PHYSICIANS GROUP – BUFORD OFFICE American  
N.E. GEORGIA PHYSICIANS GROUP – CUMMING OFFICE  
N.E. GEORGIA PHYSICIANS GROUP – DAHLONEGA OFFICE 
N.E. GEORGIA PHYSICIANS GROUP – DAWSONVILLE OFFICE 
N.E. GEORGIA PHYSICIANS GROUP – DAWSONVILLE OFFICE 
PATRICIA & RANDALL OSER 
PowerCore Referral Network 
REALITY BIKES American 
REBECCA AND BILL ROPER 
Teri Mohr for JOEL & AMY MILLER & FAMILY 
THE FURMAN AND MARY STANSELL FAMILY 
THE HALL FAMILY 
THE JJKK SHUDARK FAMILY 
THE LUCIUS FAMILY  
U.S. HOSE AND FITTINGS , INC. - CUMMING  
URGENT CARE DAWSONVILLE - N.E. GEORGIA PHYSICIANS GROUP 
TREE
Black Locust Tree
Tulip Poplar
Silverbell Tree
American Hornbeam Tree
Loblolly Tree
Boxelder Tree
Bald Cypress Tree
Announcement Bethelview
Announcement Fowler Park
Announcement McFarland
Announcement McFarland
Announcement Union Hill1
Announcement Union Hill2
American Bladdernut Tree
American Sweetgum Tree
Paw Paw Tree
Scarlet Oak Tree
Water Oak
White Oak Tree
Red Maple Tree
 Sourwood Tree
White Ash Tree
River Birch Tree
Southern Red Oak Tree
Flowering Dogwood Tree
Chestnut Oak Tree
Wild Black Cherry Tree
 Willow Oak Tree
Honey Locust Tree
Tulip Poplar Tree
Southern Crabapple Tree
Southern Catalpa Tree
Wild Black Cherry Tree
Black Willow Tree
Black Gum Tree
Red Maple Tree
Willow Oak Tree
Chalk Maple Tree
Silky Dogwood Tree
Sassafras Tree
Flowering Dogwood Tree
Swamp Chestnut Oak Tree
American Sweetgum Tree
Tulip Poplar Tree
American Beech Tree
Poison Ivy
Sycamore Tree
Winged Elm Tree
Sycamore Tree
American Beech Tree
Sourwood Tree
American Hornbeam Tree
 Eastern Hophornbeam Tree
Red Oak Tree
Flowering Dogwood Tree
Mockernut Hickory Tree
River Birch Tree
Poison Ivy