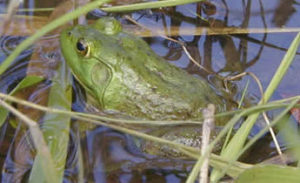 Anuran Monitoring Program – this is a project sponsored by The Forsyth County Adopt-A-Stream program which is a part of Keep Forsyth County Beautiful.
Amphibians are considered excellent bio indicators because of their susceptibility to environmental changes. They are sometimes referred to as a "canary in a coal mine".
From the Anuran Monitoring Program brochure "They (frogs) are facing a worldwide decline that has been documented since the 1980's. They have suffered from the direct affects of development and associated habitat loss and from the collateral affects of climate change. The inappropriate use of herbicides and pesticides, and the introduction of exotic species into natural habitats have also played a role in the decline of amphibian populations."
"In response to the declining numbers of amphibians in North America, many programs have been developed to monitor amphibian populations. Sightings and hearings of frog and toad species have been used to generate maps of each species' range. Over the past few years, many Forsyth County residents have shown concern about the absence of a frog calling in a particular area. With the help of volunteers, an accurate account of species occurrence and abundance in Forsyth County neighborhoods and wetland areas can be developed. Anyone with an interest in conservation and keeping their county healthy is encouraged to participate in this fun monitoring activity. Over time, this data could be used to make land-use decisions that benefit not only the environment and amphibian populations, but also our own lives."
Forsyth County Master Naturalists have volunteered to assist with this program and have attended the preparatory workshops. Volunteers will also be monitoring selected sites on a weekly or as required basis. Information from findings will be recorded on data collection forms and be submitted to Keep Forsyth County Beautiful. Tasks will include listening for and identification of frog calls along specified routes and visual inspection of stations which have been established to attract frogs and salamanders.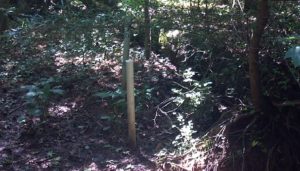 In this picture is an example of a high tech monitoring station. The complete station would consist of 12, 2″ pvc pipes driven into the ground the general area where the frogs are to be counted. The frogs will actually enter the pipes and hopefully be counted. There are also short sections of boards (not shown) which are laid on the ground for salamanders to hide under.
If you would like to participate in this program contact :
Keep Forsyth County Beautiful
875 Lanier 400 Pkwy suite 112
Cumming, GA 30040
(770)205-4573
[email protected]